David Menditto
Associate General Counsel
UpRight Law
(888) 708-0876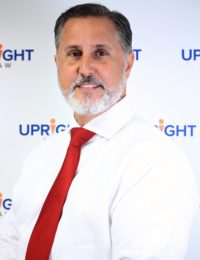 79 W. Monroe St.
5th Floor
Chicago, IL 60603
David is the Associate General Counsel for Litigation for UpRight Law. His team addresses regulatory inquiries and works with UpRight Law's partners and regulatory bodies to resolve issues. During his 25 years of practicing law, David has worked as a litigator at various firms and as Associate General Counsel at a major telecommunications provider, a construction company, and now UpRight Law.  David's background in pursuing consumer rights and in litigating complex matters brings a helpful perspective to UpRight Law as it pursues its mission to improve lives by increasing access to the justice system.
David Menditto graduated from the University of Illinois Law School cum laude in 1993.
License
29 years since David Menditto was first licensed to practice law.
| State | License Status | Year Acquired |
| --- | --- | --- |
| IL | Active and Authorized to Practice | 1993 |
| U.S. Court of Appeals, 7th and 11th Circuits | Active and Authorized to Practice | 2015 |
| Dist. Courts in AR, CO, IL, IN, MI, TX, and WI | Active and Authorized to Practice | 1993 - 2015 |
Education
| School | Major | Degree | Graduated |
| --- | --- | --- | --- |
| University of Illinois College of Law | Law | J.D. | 1993 |
| Purdue University | Political Science | B.A. | 1990 |
Work Experience
| Position | Duration |
| --- | --- |
| Hyslip & Taylor, LLC - Partner | 2013 - 2017 |
| Anderson Moran Construction, General Counsel | 2007 - 2010 |
| Verizon Business - Assistant General Counsel | 1998 - 2006 |