Michael Georg
Partner
UpRight Law
(888) 708-0876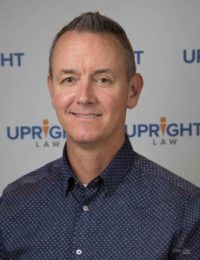 2600 N. Mayfair Rd.
Suite 700
Milwaukee, WI 53226
My name is Attorney Michael Georg, and I have successfully represented thousands of people through the bankruptcy process since 1997. I have filed Chapter 7 and Chapter 13 bankruptcy petitions for people throughout the State of Wisconsin. I have helped homeowners save their homes from foreclosure, saved consumers' cars from repossession, and protected their wages from garnishment.
I grew up in Fond du Lac, WI and earned my B.A. from the University of Wisconsin at Madison and I earned my law degree from DePaul University College of Law. While studying law, I clerked for the Cook County Public Defender's Office. I also worked for a law firm that helped people obtain social security disability benefits. This experience sparked in me a desire to use my education to help people deal with life's problems they simply cannot control. It is my job to help you deal with crushing medical debt, overwhelming credit card late fees, and the payday loans that were supposed to get you out of a pinch, but are now squeezing your family's budget.
License
24 years since Michael Georg was first licensed to practice law.
| State | License Status | Year Acquired |
| --- | --- | --- |
| Wisconsin | Good Standing | 1997 |
Education
| School | Major | Degree | Graduated |
| --- | --- | --- | --- |
| DePaul University College of Law | Law | JD - Juris Doctor | 1996 |
| University of WIsconsin Madison | History and Political Science | BA - Bachelor of Arts | 1992 |
Work Experience
| Position | Duration |
| --- | --- |
| Attorney Editor at West Group | 1998–2001 |
| Associate Attorney at Macey & Aleman / Legal Helpers | 2002–2006 |
Awards
| Award Name | Granting Organization | Date |
| --- | --- | --- |
| American Jurisprudence Award | DePaul University | 1994 |